2023 Minnesota Angus Field Day
June 10-11, 2023
Faribault County Fairgrounds
235 Midway Road, Blue Earth MN 56013
SCHEDULE:
Saturday June 10th, 2023

??

9AM – Fairgrounds open (earliest you can arrive)
11AM-1PM – Cattle Check In
2PM – Junior Meeting with Ice Breakers
National Junior Angus Meeting to Follow Regular Jr Meeting
6PM – MN Angus Banquet

Sunday June 11, 2023

Breakfast provided by host families.
9AM – Show Begins
Show Order: Cow/Calf, Bulls, Bred & Owned Steers, Owned Steers, Bred & Owned Heifers, Owned Heifers, Showmanship (Junior 8-13, Intermediate 14-17, Senior 18-21, PeeWee 7 and under– All ages as of January 1st, 2023).
Lunch to follow Show.
REMINDERS:
This is a NO FIT SHOW – no adhesives or paints. You may use oils.
We follow the rules of the National Junior Angus Association for our show.
Animal must be registered in the Junior's name exhibiting the animal by show day.
Only Bred and Owned bulls can be shown.
Junior must be paid member of the MN Junior Angus Association to show.
To participate in showmanship, the Junior has to have exhibited in the regular portion of the show.
Registration papers will be checked and stamped, so please bring them.
HOTEL INFORMATION:
AmericInn by Wyndham Blue Earth
1495 Domes Drive, Blue Earth
507-800-1542
Block: MN Jr. Angus
$115.99 plus tax
Super 8, Blue Earth
Camping available onsite - reservations are required. 507-600-0130 or BECamp6820@gmail.com
ENTRY FEE:
$35/head by June 3
$40/head late fee
We will be accepting day of entries, but these entries will not be included in the program. Bedding is included and tie-outs are available. All animals will be required to stall in the barn.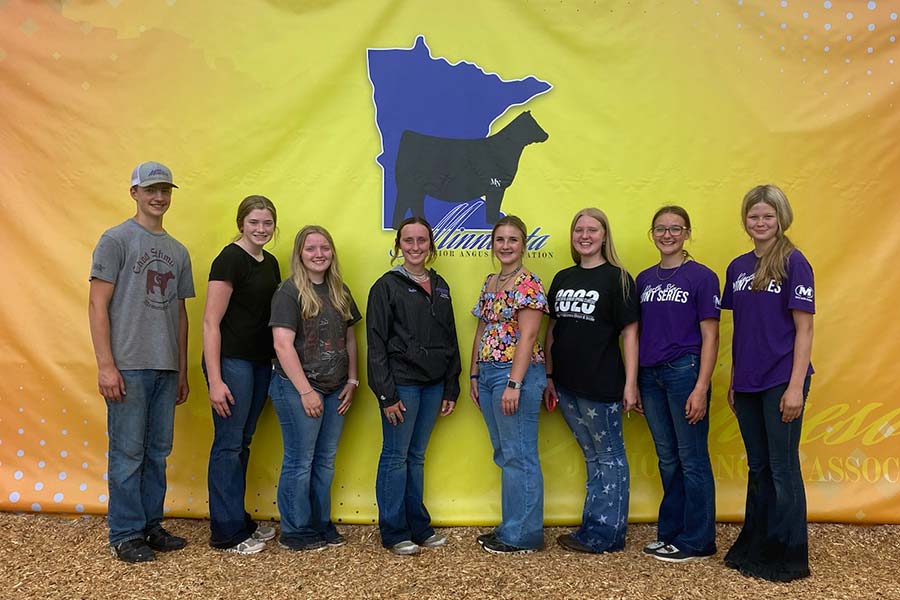 2023-2024 Officers
President – Lydia Coonrod
Vice President – Paige Gunsolus
Secretary – Olivia Johnson
Treasurer – Cody Ostertag
Membership Director – Taylor Ford
Communications Director – Cora Mayer
Historians – Paige Johnson and Riley Bungum
---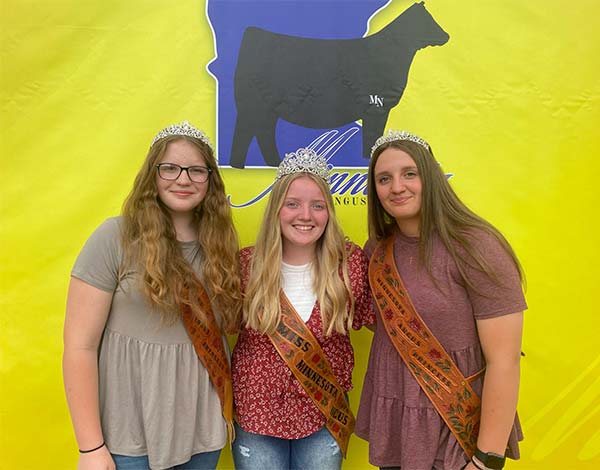 Royalty
Queen: Paige Gunsolus (middle)
Princess: Anna Ostertag and Brielle Gunsolus